Improve PPC Results With NO Increase in Budget
Fission SEO works with Hamburg Overhead Doors in order to maximize their Pay-Per-Click (PPC) budget. Since their initial launch in January 2011, their click through rate (CTR) has been on a constant climb with no increase in budget. Fission SEO has helped DOUBLE the number of clicks to their site.
The results are clear online and increased traffic to their website is documented!
We have solutions for every budget. Fill out the form to the right to begin improving your results or see more examples of how Fission SEO made an impact below.
Achieve the Highest Quality Scores On Google: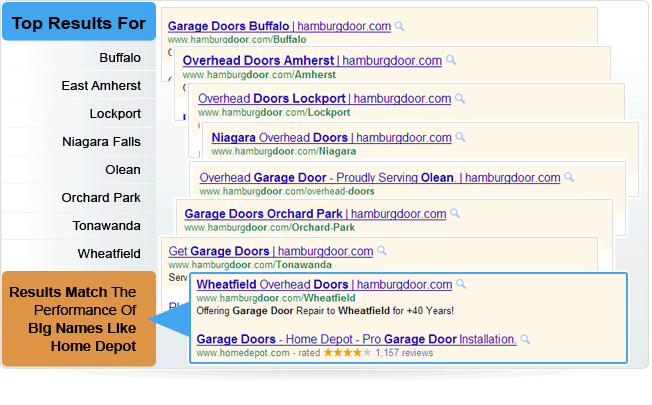 Achieve the Highest Quality Scores On Google:
The PPC specialists of Fission SEO targeted keywords for local markets within the garage door industry and tailored the results to reflect user's searches, leading Hamburg Overhead Door to obtain some of the highest quality scores attainable by Google! As their quality score rose, the cost per click of each ad went down, allowing Hamburg Overhead Doors budget to cover the cost of nearly double the clicks.
Because of their excellent Pay Per Click campaign, Hamburg Overhead Doors ad is first or second on nearly all of their keyword phrase's search results, giving them maximum visibility to deliver traffic to their site and increase conversions.