Search Engine Ranking Reports
Get Your Search Engine Placement Report
Keeping track of your Search Engine Rankings can be difficult. Fission SEO makes tracking and comparing your placements easy! Using your desired list of Search Phrases, the placement report will show your current page rankings for each of the searched phrases. This can be run once per month with up to 50 TSPs per project. More frequent reporting options are available if required.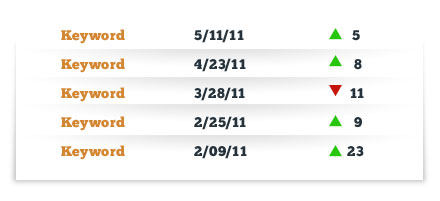 Track & Compare Your Search Engine Placement
With recurring ranking reports, you will be able to compare the prior reports (if one exists for that search phrase) to show positive, negative, and neutral movements. You can also include up to 3 competitors web addresses for reference in each report!
Reporting plans start out with as little as 10 TSP per month! Fission SEO makes tracking your Search Engine Rankings simple and fun!