Meta Tag Optimization Pack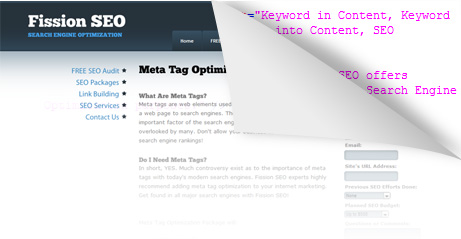 What Are Meta Tags?
Meta tags are web elements used to provide structured data about a web page to search engines. The meta elements represent a very important factor of the search engine's algorithm and is often overlooked by many. Don't allow your business to fall behind in the search engine rankings!
Do I Need Meta Tags?
In short, YES. Much controversy exist as to the importance of meta tags with today's modern search engines. Fission SEO experts highly recommend adding meta tag optimization to your internet marketing. Get found in all major search engines with Fission SEO!
Meta Tag Optimization Package will:
optimize page URL
optimize keywords
optimize titles
add additional meta tag metrics
(Up to 3 Targeted Search Phrases per page)