Original Article Distribution
-Ideal for Link Building
How Are The Articles Made?
Each article is 100% unique and utilizes one search phrase to create maximum relevance. Articles are then manually submitted to many search friendly directories. As the article directories are crawled by search engines, the articles are served out to even more websites that aggregate content.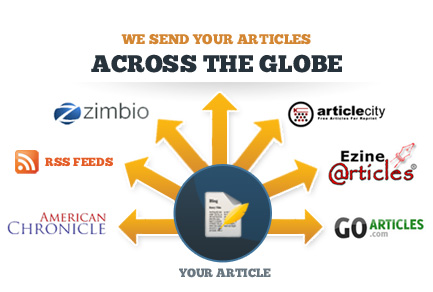 What Will The Articles Do For Me?
The optimized articles contain link backs to targeted landing pages creating more strength and relevance for the original page. This means that inbound links to your website will be throughout the internet bringing both search engine traffic and visitors to the selected landing pages!
Package 1 - Lightweight :
Includes a single 500 word article optimized for a search phrase
Includes 2 relevant search phrase anchor links back to target landing pages on the website
Includes submission to 350 article directories
Package 2 - Heavyweight :
Includes entire Package 1 plus...
A second 500 word article optimized for the same search phrase
Includes 2 more relevant anchor links back to target landing pages on the website
Includes submission to 10 Premium article distribution networks with high PageRank